TF signal vous propose un large choix de panneaux led d'extérieur et d'intérieur, ces produits sont fabriqués en Europe ils sont donc conforme aux normes Européennes et bénéficient de 25 années d'expérience dans la technologie led.
Le totem Led s'impose aujourd'hui comme l'un des outils de communication visuels le plus efficace. Suivant l'emplacement du panneau publicitaire Lumineux Led, entre 50 et 90% du trafic piéton et motorisé visualisent votre message.Cette technologie est aujourd'hui créditée d'une image moderne et innovante, aussi votre enseigne ou votre collectivité s'en trouve valorisée.Votre message peut être modifié en temps réel.
Fort de ces constats, il n'est pas étonnant que la solution de communication que représente les panneaux lumineux Led s'imposent naturellement sur tout le territoire national.
Ce produit se décline en différentes versions: simple et double face en format paysage ou portrait.Les leds sélectionnées de haute luminosité ont un grand impact visuel et sont parfaites pour être vus à grandes distances entre 6m et 30m
Caractéristiques techniques
Technologie
Type de d'éclairage led: SMD
Taille de l'affichage : 72″ (~ 2 m2)
Pitch: 5 mm
Couleur :  Full color
Luminosité: 7500 cd/m2 (~6m de distance pour une visibilité optimum)
Angle de lecture : 140 ° H / 140° V
Résolution: 320 x 192  pixels
Durée de vie moyenne: 100 000 heures
Poids : 85 kg
OPTIONS / CONFIGURATION
Configuration personnalisée (en format paysage ou portrait).
Diffusion de l'heure, température, calendrier et humidité relative.
Diffuse des textes, des images ainsi que plusieurs types de formats vidéos supportés comme par exemple AVI, MOV,MPG…
Communications sécurisés via un routeur ou connexions WIFI ou RJ 45.
Logiciel de gestion : inclus
Formation : incluse
COULEUR
Possibilité de personnalisation
Dimensions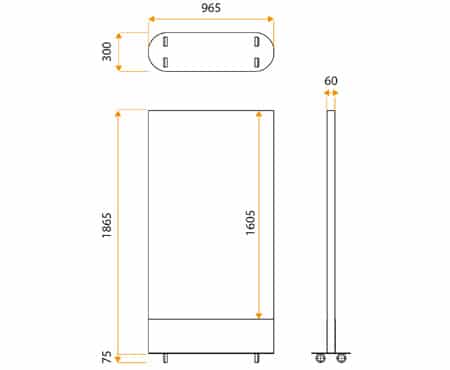 Format d'affichage portrait: 1605 X 960 mm
Pour tous vos projets sur mesure :
/ TF manufacturing
In the process of designing and manufacturing street furniture-cum-signage,
TF offers an wide scope of possibilities – implement various materials through both traditional and ultra contemporary techniques. In the end, TF work closely with different designer, respecting their creative vision and thus contributing to the overall success of their products.