Solar Powered Charging Point for Urban spaces
The charging Station Solar Stick is a sun powered station for mobile devices. It is part of our digital street furniture designed for outdoor urban areas. The solar stick includes 4 solar panels on each side to capture natural light wherever the spot is and a Lithium batterie that makes it autonomous on cloudy days and at night. Solar Stick includes two USB sockets to charge mobile devices, and 2 mobile phone supports. The sun powered Solar Stick is ideal for outside waiting zones such as bus or open-air train stations, or other outdoor waiting spaces such as exhibition, open-sky concert, festival… This station is customisable with :
Safety urban lighting
directional signage
1 to 3 seats
1 Sit stand seat
1 Shade sail
1 to 2 work surface
1 urban ashtray
The fixation of this charging stick is quick with only 4 attachment points or with a self-stable system. That makes it be a nomadic charging station.
Solar Stick is covered with a corrosion resistant epoxy paint among 220 RAL colours. It is manufactured with stainless steel.  Its weight is minimum 170kg depending on the customisable dimensions.
Specifications
MANUFACTURING
Laser cutting
Folding
Wedding
FINISHES
A corrosion resistant epoxy paint with 220 RAL colour scale
INSTALLATION
2 solutions
4 points of fixation
Baseplate
Dimensions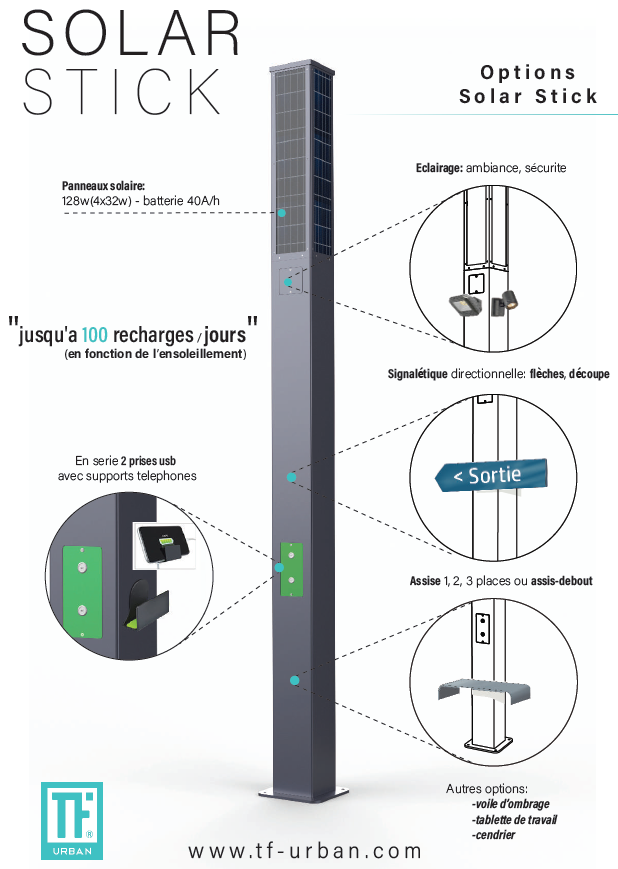 Solar Stick Station
Height: customisable
Lenght: customisable
Weight:  Minimum 170kg + options
Pour tous vos projets sur mesure :
/ TF manufacturing
In the process of designing and manufacturing street furniture-cum-signage,
TF offers an wide scope of possibilities – implement various materials through both traditional and ultra contemporary techniques. In the end, TF work closely with different designer, respecting their creative vision and thus contributing to the overall success of their products.