Line Bench by Lucile Soufflet
A design metal bench with several possible configurations for public spaces
From the Circular Bench range, the Line Bench offers you benches and seats in straight shapes with or without backrest. Available in more than 230 colors, you can imagine your public spaces with this bench that will bring modernism and lightness. The backless urban bench placed in the centre of a square or park allows users to see from side to side. Designer: Lucine Souflet.
From 1 700€HT – length 1,8m
Caractéristiques techniques
FINITIONS
Traitement primaire anti-corrosion sans zinc
INSTALLATION
Selon chaque cas, une solution appropriée :
Sol mou (terre – gazon – etc.) Piquet d'ancrage de chez "RISS" – Modèle breveté, Réf 9621 VLOT Diam. 18 Long. 300 Tête Hexagonale taraudée M8
Sol dur (béton – bitume) Fixation par cheville standard (Type SPIT ou autre)
Dimensions Line Bench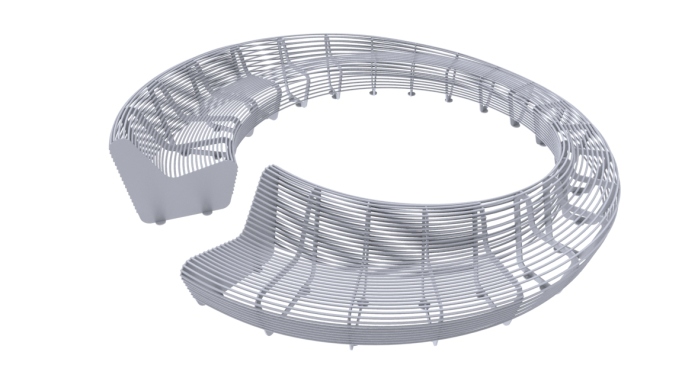 Line Bench
Length: A partir de 1800 mm
Heigth: 430 mm
Pour tous vos projets sur mesure :
/ TF manufacturing
In the process of designing and manufacturing street furniture-cum-signage,
TF offers an wide scope of possibilities – implement various materials through both traditional and ultra contemporary techniques. In the end, TF work closely with different designer, respecting their creative vision and thus contributing to the overall success of their products.