Urban Seat for parks or waiting areas
A perfect example of essentialist design
For sustainable development and human-scale cities, Icila offers a dense and sculptural presence – magnified by raw steel – formed cut and bent sheets without rather than welding. This indoor/outdoor piece makes for a wide, solid and supple seat. Though a bold statement, Icila's smooth surfaces capture light. Through its simple shape and various colours, this nomadic furniture invites people to sit back and relax in a public areas.
Technical features
FINISHES
Anti-corrosion primer and finishing
Powder paint
INSTALLATION
In each case, an appropriate solution :
Soft ground (earth – grass – etc.)
Anchor stake from home "" RISS "" – Patented design
Ref 9621 VLOT Diam. 18 Long. 300
Hexagonal head threaded M8
Hard ground (concrete – bitumen)
Mounting with standard plug (SPIT type or other)
Smooth surface (tiles – paving)
Plots Type E THP
Dimensions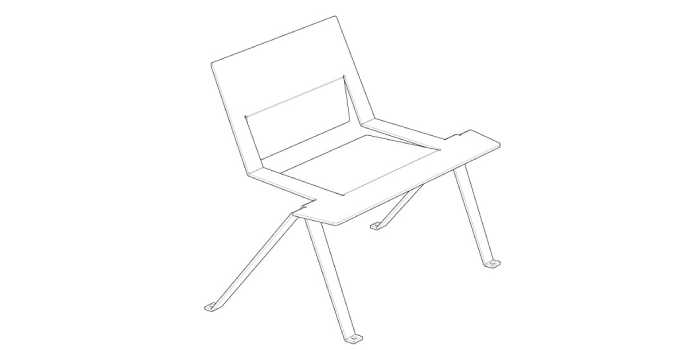 ICILA CHAIR
Width : 573 mm
Height : 776 mm
Length: 850 mm
Weight : 40kg
For all of your customized projects :
Cécile Planchais
Sculptor and designer in urban planning and landscaping : signs, material, light, furniture designed within the context of arrangements and facing a universe of new materials and technologies.
Research and design dedicated to a high environmental quality.
Main references: City of Paris – upgrading the centre of La Baule and Fort Mahon.
An originator in the concept of lines for urban furniture, her design has been widely established since 1990 in France and Europe.
/ TF manufacturing
In the process of designing and manufacturing street furniture-cum-signage,
TF offers an wide scope of possibilities – implement various materials through both traditional and ultra contemporary techniques. In the end, TF work closely with different designer, respecting their creative vision and thus contributing to the overall success of their products.