A visible urban outdoor ashtray
Easily visible in urban space, it stands as a totem where smokers gather for a convivial chatting moment. Its size and shape offers shelter from the wind to light up a cigarette.
Highly customizable, in different versions : single or Double ashtray, Totem or Wall, Removable receptacle, Lock quarter-turn secure. Sawaro is available in different colours according to RAL colour chart.
100% Made in France Manufacturing
Technical features
MANUFACTURING
Laser cutting
Folding
Welding
FINISHES
Anti-corrosion primer and finishing
Powder paint
INSTALLATION
Concrete, tile, paving :
Mounting with mechanical anchoring or chemical anchoring according to the nature of the ground.
Or in option TF's mounting set
Bitumen :
Please consult us
Dimensions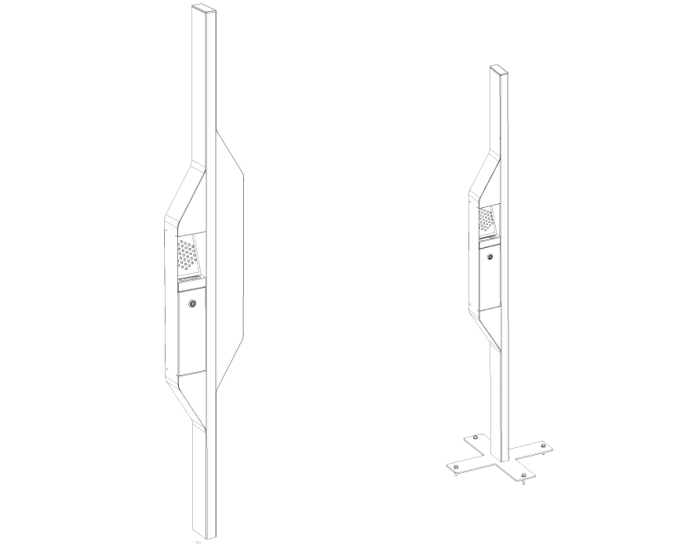 Sawaro
Height : 1945 mm
Width : 363 mm
Depth : 100 mm
Weight : 20 Kg
For all of your customized projects :
Pierre Millet
Graduate of ENSAPLV (Ecole Nationale Supérieure d'Architecture de Paris La Villette), and operating as Architecte DPLG, in Nice, Pierre Millet collaborated with various architects and designers in Paris before setting up his own studio.
Leaning more towards commercial architecture and design, his projects always aim to address the relationship between the person and the place.
/ TF manufacturing
In the process of designing and manufacturing street furniture-cum-signage,
TF offers an wide scope of possibilities – implement various materials through both traditional and ultra contemporary techniques. In the end, TF work closely with different designer, respecting their creative vision and thus contributing to the overall success of their products.