Urban digital, solar and phone connect bench
Tolerie Forezienne and its brand TF urban has been designing and manufacturing street furniture for 10 years, working with more than twenty designers. She has been participating in the Saint-Etienne Design Biennale since 2008, and again this year thanks to the "test bench" approach, she offers three new products to the public: Nomad, Banki, The Smallest Stand in the World.
The "Banki" project was born from the observation of uses and practices in the urban space and how the furniture can become a vehicle for social interaction. One of the motivations behind this project was to give back to the public bench its essential roles, namely to create a space where people meet, discuss or sit together.
"Banki" consists of two types of seat: a "straight bench" and a "curved bench".
In order to integrate in all types of spaces (street, square, etc.), the project was conceived in a spirit of modularity and adaptability. Easy to install, all elements are independent and allow multiple layouts according to the needs and constraints related to the location.
Different elements can complement the configuration chosen:
– for the straight bench version – two models of slightly raised and inclined backrests of different lengths providing comfort for two or four people,
– for the straight bench and curved bench version – a tablet allowing users to lean, eat or work.
The positioning of the different elements can be modulated by the openings of the seat. They also facilitate the maintenance and rapid evacuation of rainwater.
"Banki" has a USB charging station for digital media (smartphone, tablet). The power supply is made autonomously thanks to a mast equipped with a solar panel. The choice of colors was based on a composition creating a rupture between the seat and the various modules that complement it. However, the color palette may vary indefinitely.
This project offers the qualities required in terms of comfort and space, due to a good depth of seating and the possibility of being used by a large number of people.
Caractéristiques techniques
MANUFACTURING
Laser cutting
Folding
Welding
Mechanical assembly
FINISHES
Anti-corrosion primer and finishing
Photovoltaic / Reloading (optional)
1 photovoltaic panel 806 x 680 mm
12v battery  / 220 amp/h
2  USB plug (smartphone / tablet)
Dimensions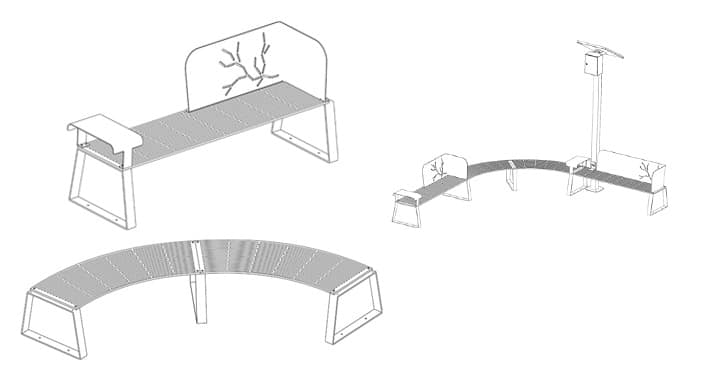 line bench
Depth : 642 mm
Total height : 898 mm
Seat height : 455 mm
Weight : 120 kg
curved bench
Depth : 642 mm
Seat height : 455 mm
Interior radius : 1510 mm
Exterior radius : 2005 mm
Weight : 128 kg
Solar Pole / usb (optional)
Pole section : 120 x 120 mm  thickness : 3 mm
Height : 3200 mm
Weight : 65 kg
For all your custom projects:
Garib M'Zouri
Gharib M'zouri is a designer, from the School of Art and Design of St Etienne and the Higher School of Art of Limoges.
He developed a personal approach around a work of constant experimentation of the matter. Between art and design, he is interested and questioned in his work the narrative and social part contained in the objects of our daily life. He is also involved in artistic workshops for young audiences.
/ TF manufacturing
In the process of designing and manufacturing street furniture-cum-signage,
TF offers an wide scope of possibilities – implement various materials through both traditional and ultra contemporary techniques. In the end, TF work closely with different designer, respecting their creative vision and thus contributing to the overall success of their products.