Digital Connected Urban Bench
The Nomad project is the result of research into new uses in the urban area, particularly in terms of mobility (short-term needs about 5/30 min). The main goal of TF Urban was to offer a range of furniture designed for high traffic areas (station forecourt, exhibition halls, shopping centers, universities, etc.). Users can rest, work, or even having a snack on one of the furniture while using a "connected" function of the furniture (phone charging, lighting …)
The concept is based on a standard element: the structural tube with an induction charger and USB plugs powered by a solar panel. Seats are fitted to form a seat, a loveseat, a saddle, an ischial support and a work table.
Thanks to the use of solar energy, Nomad wants to be a connected and an autonomous furniture, meeting the growing needs of recharging our smartphones. The XL model acts like a "solar hub", it receives and stores the solar energy in order to distribute it to the other furniture of the range.
The comfort was also worked by proposing all the seats and trays in Solid Surface, giving them a very pleasant touch as well as a very good thermal insulation and a great ease of cleaning.
Thanks to its modularity, the Nomad range is obviously scalable and customizable according to your needs.
100% Made in France Manufacturing
Specifications
MANUFACTURING
Laser cutting
Folding
Welding
Mechanical assembly
FINISHES
Anti-corrosion primer and finishing
Photovoltaic / Reloading (optional)
1 Photovoltaic panel 1500 x 675 mm
1 Battery 12v / 220 amp/h
QI inductive charger (induction pour smartphone)
2 to 4 USB plug (smartphones / tablettes) per unit
Dimensions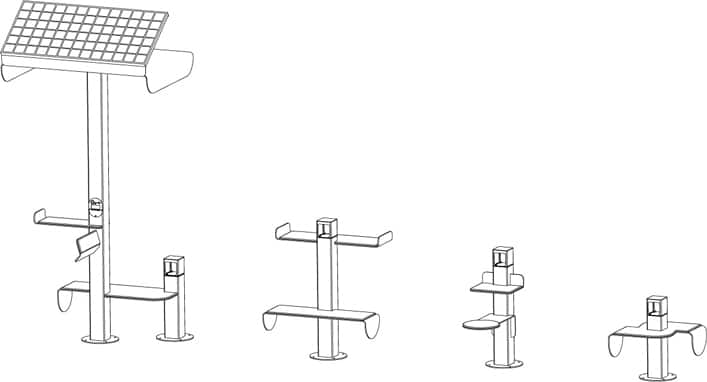 XL model
Width : 1065 mm
Total height (with PV panel) : 3225 mm
Weight : 350kg
L model
Width : 650 mm
Total height : 1320 mm
Weight : 92kg
M model
Width : 420 mm
Total height : 1120 mm
Width : 52kg
S model
Width : 725 mm
Total height : 770 mm
Weight : 54kg
For all your custom projects:
TF Lab
The combination of industrial rigor and creativity
The TF Lab team brings together expert profiles dedicated to finding new solutions to push the boundaries of design.
They take charge of the feasibility study of design proposals and ensure the transformation of a project into a concrete product with an added soul. They are the driving force behind proposals to meet the requirements of the specifications, streamlining the design and adapting the projects to the standards required by the urban furniture reference system. The multidisciplinary team develops its own range of street furniture, with the aim of creating a sustainable and virtuous model.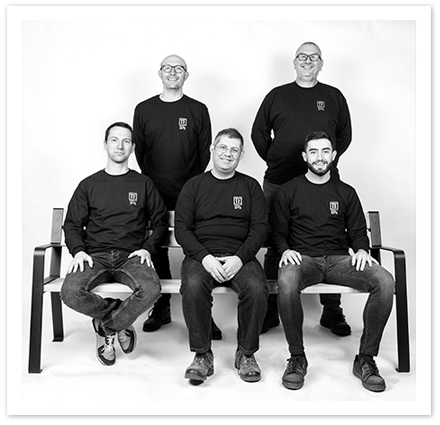 / TF manufacturing
In the process of designing and manufacturing street furniture-cum-signage,
TF offers an wide scope of possibilities – implement various materials through both traditional and ultra contemporary techniques. In the end, TF work closely with different designer, respecting their creative vision and thus contributing to the overall success of their products.