Oasis of freshness with misting device, bench and shading area
The oasis of freshness is a new urban form, offering a fresh resting place, thanks to a system of high pressure misting, seats, and shade. It provides communities with a cooling solution that can lower the temperature by 3°C  to 5°C in an urban area during heat waves.
Comfortable, economical, made in France, it is the design solution that combines misting, wooden seat and shading. This robust and very elegant furniture, in the shape of a carousel, is signed by the designer Alexandre Moronnoz. Easy to install and multifunctional, BRUM benefits from a quick installation and an immediate shade area.
The system is triggered by push buttons located at a height of 40 cm from the ground, accessible to all users (adults, children, people with reduced mobility). It triggers a cloud of drinking water mist that diffuses in cycles of 10 to 20 seconds. For reasonable energy consumption, the time slot and the ambient temperature can be configured.
It can be used all year round. Outside the heat wave period, it offers a friendly and comfortable wooden seat, as well as a shaded area. It is resistant to snow/rain/wind conditions
To ensure the health safety of users, the misting system is equipped with a UV sterilizer and a filter which guarantee good water quality. The set includes the furniture, the misting system, with a high-pressure misting pump, 18 misting nozzles over 360°, and fittings corresponding to your installation. Our team ensures the installation of misting furniture throughout France, Belgium, Switzerland and Luxembourg and recommends an annual maintenance.
Brum  – steel, aluminium and wood – Design by Alexandre Moronnoz
Technical features
MATERIALS
Steel
Natural  wood : Robinia (from France)
Aluminium
MANUFACTURING
Laser cutting
Folding
Welding
Assembling
FINISHES
Steel : Epoxy polyurethane paint
Oiled wood / Raw wood
FACILITY
Freestanding furniture on ajustable feet
Can be fixed to the floor with a standard dowel or chemical sealant
Planter option
Dimensions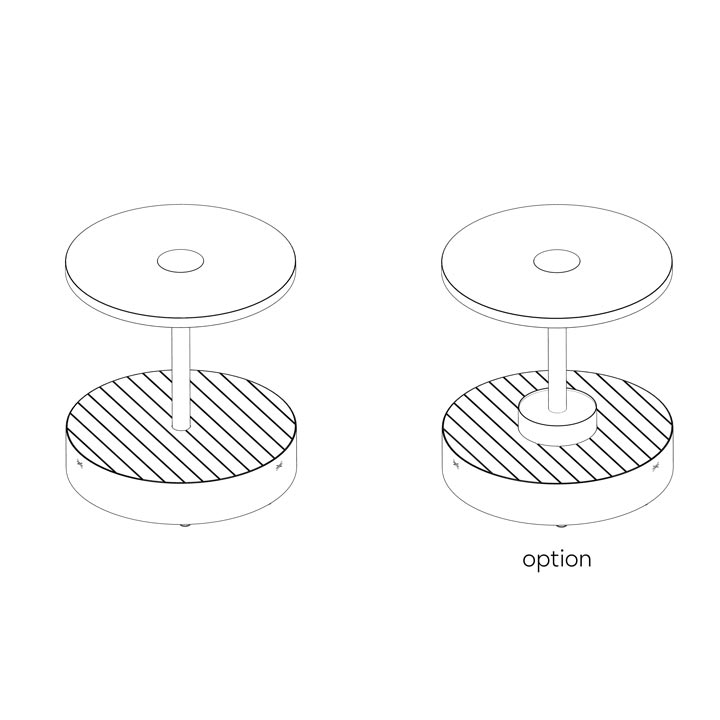 Brum
Diameter : 1990 mm
Height : 2098 mm
Seat height : 400 mm
Weight : 437 Kg
For your custom projects :
Alexandre Moronnoz
Graduate of ENSCI, Les Ateliers in 2003, (Ecole Nationale Supérieure de Création Industrielle, Les Ateliers, Paris), Alexandre Moronnoz operates as a self-employed designer in Paris. He alternates research projects, commissions and collaborations, which allows him to explore a variety of areas.
Two urban furniture projects – Y in 2006 developed with VIA, and Interférences in 2007 for Brussels Environment – marked a strong line between the object and the space, in his personal research and his approach to projects. He approaches the object like an architecture, integrating the questions of context and environment into the design.
For him, design is an attentive act; he considers the entirety of his responses to be the generators of the environment.
/ TF manufacturing
In the process of designing and manufacturing street furniture-cum-signage,
TF offers an wide scope of possibilities – implement various materials through both traditional and ultra contemporary techniques. In the end, TF work closely with different designer, respecting their creative vision and thus contributing to the overall success of their products.