Outdoor Table & Benches for terraces and public parks
This range of table and benches designes by Luicle Soufflet, made of steel and highly durable differs from the others. The finesse of its seat and backrest definitely gives it a contemporary style. The line includes a tiny bench, a 5-people large bench, a coated bench for children and grown-ups.
Technical features
MANUFACTURING
Laser cutting
Folding
Welding
FINISHES
Anti-corrosion primer and finishing
Powder paint
Dimensions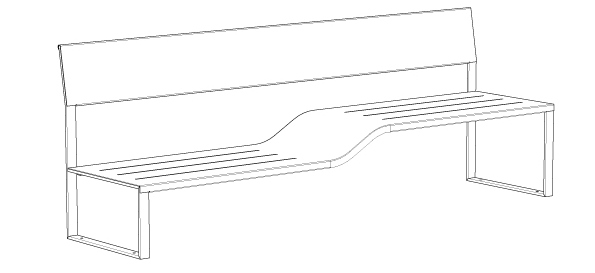 Soft Bench
Height : 800 mm
Width : 1395 mm
Depth : 756 mm
Weight : 83 Kg
for all your custom projects :
/ TF manufacturing
In the process of designing and manufacturing street furniture-cum-signage,
TF offers an wide scope of possibilities – implement various materials through both traditional and ultra contemporary techniques. In the end, TF work closely with different designer, respecting their creative vision and thus contributing to the overall success of their products.