Modular seating for public areas
Modular and customizable seat, a metal creation signed by the designer Marc Aurel
The Bia seating line is composed of independent elements that can be freely combined to create multiple configurations: 3-seater bench, chair, armchair and bench. It offers an agreement of simple and welcoming forms enhanced by a variation of geometrical decorations in diamond. The ideal recipe for a neat and dynamic design atmosphere.
The armrests and backrests are worked like metal lace, their decorative pattern cuts the light with finesse and gives this line a sophisticated and domestic look.
Sturdiness and delicacy combine to guarantee its durability. For optimal integration into your space, the Bia range can be customized with a wide choice of colors and finishes: fine texture, matte or glossy.
For both indoor and outdoor use, this collection can be adapted to different environments, waiting areas (train stations, airports, shopping centers, health care centers), urban public spaces and gardens.
The Bia line is entirely manufactured in France.
Technical features
MANUFACTURING
Laser cutting
Folding
Welding
FINISHES
Anti-corrosion primer and finishing
Powder paint
INSTALLATION
Concrete, tile, paving :
Mounting with mechanical anchoring or chemical anchoring according to the nature of the ground.
Or in option TF's mounting set
Bitumen :
Please consult us
Dimensions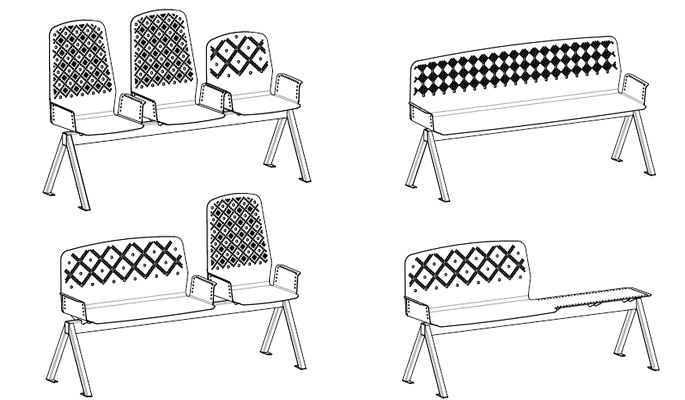 Bia
Length : 1682 mm
Depth : 510 mm
Seat height : 460 mm
Seat width : 450 / 633 / 970 / 1590 mm
Height of back : 415 / 609 mm
For all of your customized projects :
Marc Aurel
Since 1996, Marc Aurel has supported the development of public space and contributed to the emergence of an urban landscaping approach that honors spaces and their uses. He participated in the first major urban development project in France – the one undertaken by the city of Lyon in 1990 – and evolved in parallel with the biggest European manufacturers of street furniture. He's the designer of the Paris T6 tramway (2014), the experimental bus station at the Gare de Lyon (2012), bench and lighting projects for Paris (2013), the Metz BRT (2013) and for the downtown districts of Beirut (2013), Poitiers and Toulouse (2013) kept pace with the development of his industry and is now contributing more than ever to the emergence of an urban character.
/ TF manufacturing
In the process of designing and manufacturing street furniture-cum-signage,
TF offers an wide scope of possibilities – implement various materials through both traditional and ultra contemporary techniques. In the end, TF work closely with different designer, respecting their creative vision and thus contributing to the overall success of their products.