Finesse and Discretion
At first, Soft Bench appears to play-on traditional design but as one gets closer, the bench suddenly undulates and distorts to provide a supple and relaxing seat along half of its length. Sitting upright or lying back, passers-by can take time to relax, appropriate the object and discover their surroundings. The bench functions at the intersection of public and private space. Appropriating urban furniture, users can take time to contemplate the area and landscape. Suited to urban public areas or parks, Soft Bench offers new compositions for urban living.
Technical features
MANUFACTURING
Laser cutting
Folding
Welding
FINISHES
Anti-corrosion primer and finishing
Powder paint
INSTALLATION
In each case, an appropriate solution:
Soft ground (earth – grass – etc.)
Piquet anchor at "RISS" – Patented design
Ref 9621 VLOT Diam. 18 Long. 300
Hexagonal head threaded M8
Hard ground (concrete – bitumen)
Mounting with standard plug (SPIT type or other)
Dimensions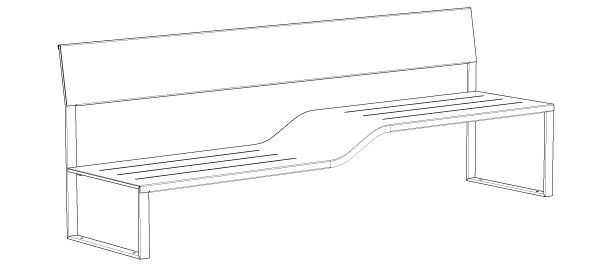 Soft Bench
Length : 2750 mm
Width : 490 mm
Seat height : 380 mm
Weight : 108 Kg
For all of your customized projects :
Lucile Soufflet
Born in 1975, Lucile Soufflet studied design at La Cambre, in Brussels. The individual, the playful aspect and the relational side all form an important part in her research.
One part of her activity is dedicated to public space, with works such as Projet 105 (an artistic intervention in social housing) and the "bancs circulaires" "my place" and "soft bench" furniture designs, but she also addresses everyday domestic objects.
/ TF manufacturing
In the process of designing and manufacturing street furniture-cum-signage,
TF offers an wide scope of possibilities – implement various materials through both traditional and ultra contemporary techniques. In the end, TF work closely with different designer, respecting their creative vision and thus contributing to the overall success of their products.