Securing bikes in the city
Optimize your bike parking with Cyclaccroche, the stylish bike hoop for urban furniture. With its modular concept, it perfectly fits urban bollards, securing multiple bikes with its sturdy steel construction.
Customize it with its unique colors and enjoy its easy mobility to reposition it as needed. Discover the single or double version for optimal use. Fully made in France, Cyclaccroche is the ideal solution for soft modes in the city. Design by Felix Miquel.
Technical features
MANUFACTURING
Laser cutting
Folding
Welding
Assembling
FINISHES
Steel : Epoxy polyurethane paint
FACILITIES
installation with a flange directly on the bollard
fixing kit can be customized according to the configuration of the post
Dimensions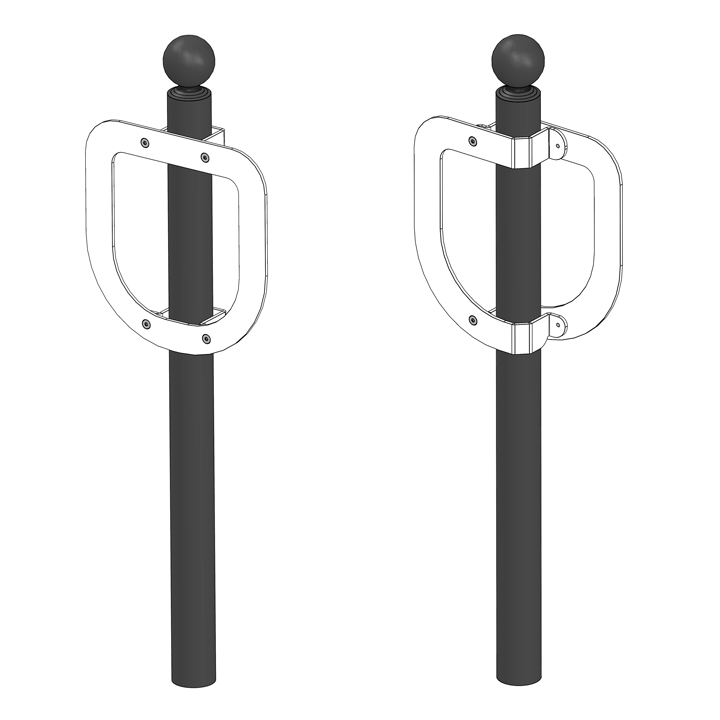 Cyclaccroche
Lenght : 376 mm
Depth : 6 mm
Height : 400 mm
Weight : 3.5 Kg
For your custom projects :
Félix Miquel
Young Parisian designer and entrepreneur. He first discovered carpentry thanks to the ADN+ Association and created a range of urban furniture in recycled wood that he then developed in steel. Curious and jack-of-all-trades, he is constantly looking for solutions to make the city more practical, more ecological and more accessible. After a Bachelor's degree at the École Nationale Supérieure d'Architecture de Versailles (ENSAV), he joined the Urban School of Sciences Po Paris in a Master's degree in Territorial and Urban Strategies. In parallel to his studies, he created and designed tables and ashtrays that can be fixed directly on road bollards. He launched his startup "Extra Terrasse" in the summer of 2020, just after the first lockdown. Many Parisian restaurant owners trust him and install his tables in the streets to extend their terrace. His goal is to rethink public space for the common well-being.
/ TF manufacturing
In the process of designing and manufacturing street furniture-cum-signage,
TF offers an wide scope of possibilities – implement various materials through both traditional and ultra contemporary techniques. In the end, TF work closely with different designer, respecting their creative vision and thus contributing to the overall success of their products.