An elegant bin with decorative patterns
Discover our elegant and dynamic metal outdoor bin, made in France. Whether for indoor or outdoor use, this square bin is the ideal choice for adding a touch of sophistication and keeping your public space clean and welcoming.
Its ergonomic design features a lockable door that can be opened with a simple push, allowing you to change the bag in just 25 seconds. With a variety of patterns and colors available, you can customize this bin to your preferences, with a wide range of options such as a roof, extinguisher, and even assembling multiple modules to meet your specific needs. In addition, a display panel can be added to communicate important information to users. The Quadri bin, designed by TF Lab, is a solution that fits perfectly in public spaces, allowing for a clean environment. All parts are entirely made in France and can be disassembled, replaced, and recycled after use, contributing to an eco-responsible approach.
Choosing the Quadri bin means choosing a durable, repairable, and recyclable product that is part of an eco-responsible approach. Trust in French quality and know-how to add a touch of elegance to your space, while being environmentally friendly.
Technical features
MANUFACTURING
Laser cutting
Folding
Welding
Assembling
FINISHES
Steel : Epoxy polyurethane paint
Raw wood
FACILITY
Hard ground (concrete – bitumen) Mandatory fixing to the ground by standard anchor or chemical sealing
Dimensions
Quadri waste bin
Length: 450 mm
Depth : 450 mm
Height : 950 mm
Weight : 34 Kg
Contenance : 70 L
Options:
cap
ashtray
display pannel
several modules
For your custom projects :
TF Lab
The combination of industrial rigor and creativity
The TF Lab team brings together expert profiles dedicated to finding new solutions to push the boundaries of design.
They take charge of the feasibility study of design proposals and ensure the transformation of a project into a concrete product with an added soul. They are the driving force behind proposals to meet the requirements of the specifications, streamlining the design and adapting the projects to the standards required by the urban furniture reference system. The multidisciplinary team develops its own range of street furniture, with the aim of creating a sustainable and virtuous model.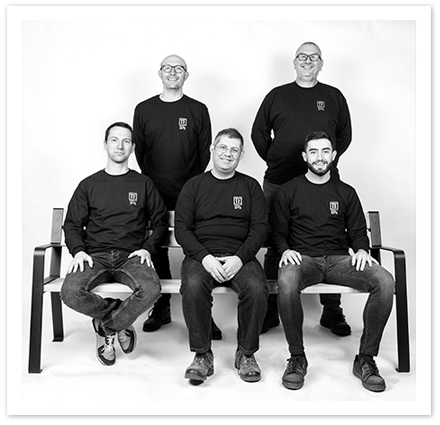 / TF manufacturing
In the process of designing and manufacturing street furniture-cum-signage,
TF offers an wide scope of possibilities – implement various materials through both traditional and ultra contemporary techniques. In the end, TF work closely with different designer, respecting their creative vision and thus contributing to the overall success of their products.