The perfect combination of metal and wood for cyclists
The Forezien bicycle support is made in France. Quality equipment for urban cyclists. Its dynamic design combines sturdiness and practicality to park and secure 2 bicycles of all sizes.
It provides support and comfort, thanks to its powder-coated steel structure (customizable) and its wooden crossbar (Robinia) that protects bike frames from scratches. Its integration is easy and fast. With 3 points of attachment to the ground, a stylish design and a durable manufacture, this bicycle stand perfectly meets the needs of new urban mobility.
Practical, it is designed for the comfort of cyclists. It combines the durability of steel with the elegant design of Le Forézien range (metal & wood) which underlines its line and makes it easily recognizable.
An economical solution that fits perfectly into the streets, thanks to its original design and customizable colors. Reliable and robust, it secures several bicycles on 2 locking points. Easy fixation on the ground, with a minimum of space.
Entirely made in France, this bike rack supports the development of active mobility in the city, it makes bike parking easier, specially in dense urban spaces.
The Forezien bike rack – Design by TF Lab
Technical features
MATERIALS
Steel
Robinia wood (From France)
MANUFACTURING
Laser cutting
Folding
Welding
Assembling
FINISHES
Steel : Epoxy polyurethane paint
Raw wood
FACILITY
Hard ground (concrete – bitumen) Mandatory fixing to the ground by standard anchor or chemical sealing
Dimensions
Le Forézien Bike rack
Length: 1010 mm
Depth : 268 mm
Height : 850 mm
Weight : 21 Kg
For your custom projects :
TF Lab
The combination of industrial rigor and creativity
The TF Lab team brings together expert profiles dedicated to finding new solutions to push the boundaries of design.
They take charge of the feasibility study of design proposals and ensure the transformation of a project into a concrete product with an added soul. They are the driving force behind proposals to meet the requirements of the specifications, streamlining the design and adapting the projects to the standards required by the urban furniture reference system. The multidisciplinary team develops its own range of street furniture, with the aim of creating a sustainable and virtuous model.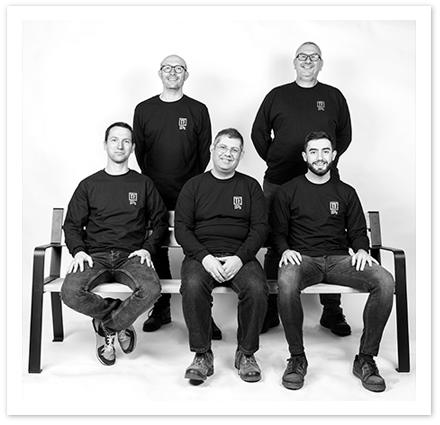 / TF manufacturing
In the process of designing and manufacturing street furniture-cum-signage,
TF offers an wide scope of possibilities – implement various materials through both traditional and ultra contemporary techniques. In the end, TF work closely with different designer, respecting their creative vision and thus contributing to the overall success of their products.