Double urban chairs with backrest
Self-supporting seats creating a visual lightness
Opposite-facing seats facilitate dialogue and exchange. Designed in folded enamelled steel, this chair offers a soft place to sit – that insights rest and relaxation.
These design urban chairs have also a design street litterbin  DVAM.
Technical features
MANUFACTURING
Laser cutting
Folding
Welding assembly
FINISHES
Anti-corrosion primer and finishing
Powder paint
INSTALLATION
Concrete, tile, paving :
Mounting with mechanical anchoring or chemical anchoring according to the nature of the ground.
Or in option TF's mounting set
Bitumen :
Please consult us
Dimensions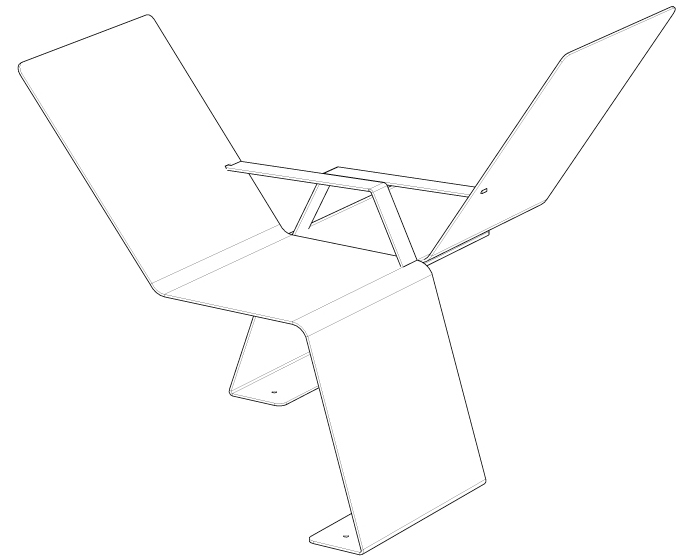 De vous à moi
Lenght : 1250 mm
Width : 700 mm
Height : 1002 mm
Seat height : 472 mm
Weight : 86 kg
For all of your customized projetcs :
Mikaël Rigaudon
Born in 1977 in Montbrison, Mikaël Rigaudon studied iron forging and chose to focus on the industrial domain.
In 1996, following a training in ornamental iron working, he won the WorldSkills Competition in the under-25 Youth category.
Thanks to his skill in combining his artistic sensibility with his mastery of industrial techniques, he quickly became a "guarantor" of quality in the development of new products within TF.
After carrying out numerous projects in collaboration with international designers, he is now developing his own line of outdoor furniture. In 2010-2011, he was made Technical Manager and integrated into the RDI team.
/ TF manufacturing
In the process of designing and manufacturing street furniture-cum-signage,
TF offers an wide scope of possibilities – implement various materials through both traditional and ultra contemporary techniques. In the end, TF work closely with different designer, respecting their creative vision and thus contributing to the overall success of their products.