Urban recycling litter bin
Urban recycling bin with 3 sorting compartments (waste, recyclables, glasses).
The O³ basket offers an affordable, functional and design sorting solution. It is easily spotted in the urban space thanks to its playful design and its bright colors. The ergonomics of the basket have been designed so that the emptying as well as the change of the bags are carried out as efficiently as possible. Each tray can thus be drained separately and secured with quarter-turn locks.
100% Made in France Manufacturing
Caractéristiques techniques
MANUFACTURING
Laser cutting
Bending
Folding
Welding
FINISHES
Anti-corrosion primer and finishing
FIXATION
Hard ground (concrete – bitumen) Mandatory fixing to the ground by standard anchor or chemical sealing
TF Lab
The combination of industrial rigor and creativity
The TF Lab team brings together expert profiles dedicated to finding new solutions to push the boundaries of design.
They take charge of the feasibility study of design proposals and ensure the transformation of a project into a concrete product with an added soul. They are the driving force behind proposals to meet the requirements of the specifications, streamlining the design and adapting the projects to the standards required by the urban furniture reference system. The multidisciplinary team develops its own range of street furniture, with the aim of creating a sustainable and virtuous model.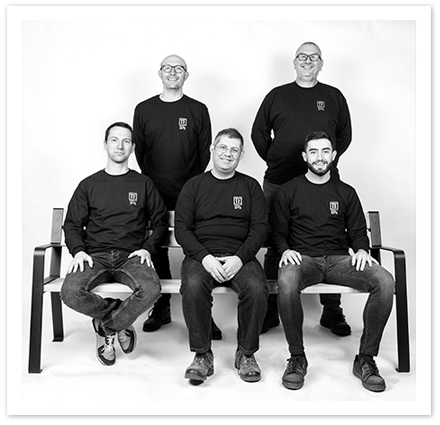 / TF manufacturing
In the process of designing and manufacturing street furniture-cum-signage,
TF offers an wide scope of possibilities – implement various materials through both traditional and ultra contemporary techniques. In the end, TF work closely with different designer, respecting their creative vision and thus contributing to the overall success of their products.