Outdoor Litter Bin for parks
A Trash sorting bin with minimalist design.
Specially conceptualized for urban landscape and spaces. This metal waste bin includes french security constraints (Vigipirate). Our Trash Bin are suitable for indoors and outdoor public spaces. This urban bin is customizable in size and colors (220 different colors) depending on the spot you want to install it.
We also offer support for means of delivery, loading, unloading and the fitting in France and Europe depending on the nature of the surface you want to install this Trash Bin
Caractéristiques techniques
FINITIONS
Traitement primaire et peinture thermolaquage
Teintes au choix suivant nuancier RAL
INSTALLATION
Selon chaque cas, une solution appropriée :
Sol mou (terre – gazon – etc.) Piquet d'encrage de chez "RISS" – Modèle breveté, Réf 9621 VLOT Diam. 18 Long. 300 Tête Hexagonale taraudée M8
Sol dur (béton – bitume) Fixation par cheville standard (Type SPIT ou autre)
Sol lisse (carrelage – dallage) Fixation par cheville standard (Type SPIT ou autre)
Dimensions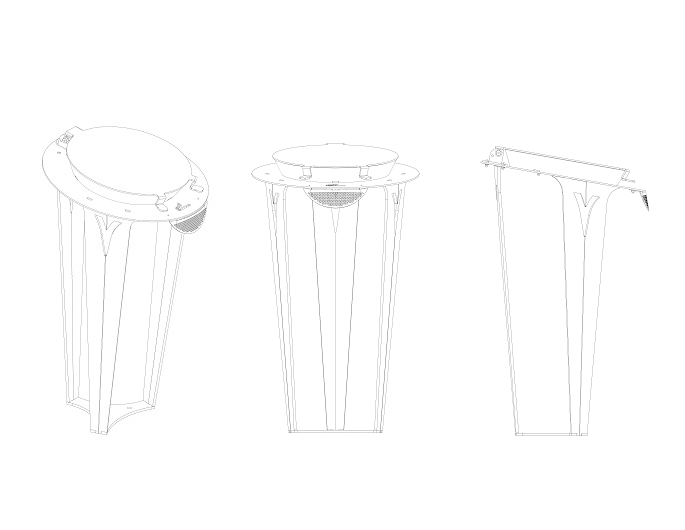 Corbeille Vigilante
Diamètre : 520 mm
Hauteur : 900 mm
Poids :  27kg
Contenance : 120 litres
Pour tous vos projets sur mesure :
/ TF manufacturing
In the process of designing and manufacturing street furniture-cum-signage,
TF offers an wide scope of possibilities – implement various materials through both traditional and ultra contemporary techniques. In the end, TF work closely with different designer, respecting their creative vision and thus contributing to the overall success of their products.